17 NEW Productivity Tools Every Entrepreneur Will Love
As an entrepreneur you have to be on your toes, ready and prepared to answer any questions, and give direction while making sure the wheels don't fall off of your business. To do this, you need to always be on the ball; and to do that you need the right tools.
Below I've listed 17 of my favorite tools that can increase business productivity, and keep your life running smoothly. In the spirit of helping out other entrepreneurs, I've listed some bigger players alongside some up-and-comers that may have a leg up on their more matured competitors. Check it out:
Business Tools:
Blendo
Geckoboard
Geckoboard
Use: Project company KPIs to keep employee focused
Summary: Geckoboard helps you monitor your business by displaying key business performance indicators on a live stream. Geckoboard is made for teams of all kinds, and meant to be displayed openly to team members so they stay informed. This helps keep employees plugged into the pulse of the business and motivated, because they can see the big picture, and understand how they impact their company.
Pros: Keeps everyone informed, plugged into the pulse of the business. 60+ data integrations & Integration via spreadsheet.
Cons: Can't customize. Must have a developer to make any customized changes.

Braavoo

Braavoo
Use: Employee Engagement Surveys
Summary: Braavoo is a gamified employee feedback platform, making it easy for businesses to quickly collect feedback and publicly reward employees performing well. Braavoo assigns value badges to employees which are always visible (to them and others), and can be upgraded based on performance keeping employees motivated and engaged.
Pros: Gamification of mundane engagement surveys
Cons: Checks in periodically, and relies on regular employee/manager checkup/interaction, which is a distraction from work.

Switchboard
Switchboard
Use: Conference calls
Summary: Switchboard is changing the way you conference with your team. Switchboard calls you 1-2 minutes before your call is scheduled to start. Simply forward your meeting invite to Switchboard, and you'll receive a call before your scheduled appointment time. Everyone present, everyone listening at the same time.
Pros: Calls every member of your conference at once.
Cons: Must manually input conference number if not included in your invitation.

Activtrak
ActivTrak
Use: Employee Productivity Monitoring
Summary: ActivTrak is a free, cloud-based employee monitoring solution that lets you track all computer activity on any machine running Windows or Mac operating systems, and lets you monitor up to three computers for free while using up to 3GB of storage.
Pros: Free Version, Easy Install, Cloud-based, Website blocking, Real-time monitoring, Mac & Windows, Activity categorization, pre-built reports, monitors both web and application activity, screenshots
Cons: No Linux client

Task Managers
Hello Focus

Hello Focus
Use: Prioritizing Tasks
Summary: Hello Focus makes teams more productive and engaged by keeping you focused on your most important task. The idea is that multitasking has been shown to make people less productive, so Hello Focus presents you with a pre-set list of tasks every morning auto-prioritized based on a number of factors, then lets you re-organize them based on what you want to get accomplished for the day, something that has also been proven to increase your productivity.
Pros: Gantt Chart. Project Roadmaps. Pre-set daily tasks.
Cons: No calendar integration

Wunderlist
Wunderlist
Use: Quick Task creation and management
Summary: Wunderlist lets you separate tasks by date or category, create subtasks, add notes and attach files to tasks. Then the service lets you share lists with your team and communicate within Wunderlist to ensure tasks are completed, and everyone is in the loop.
Pros: Easy task creation with little input needed. Subtasks available.
Cons: No deadline setting. Doesn't Integrate with a calendar.

Taskeep
Taskeep
Use: Organize daily tasks
Summary: Taskeep implements the concept that it's easier to visualize, prioritize, and accomplish tasks laid out in a calendar, rather than lists. Taskeep uses a minimalistic calendar interface with quick and easy task creation, a backlog of notes, ideas and tasks that have no date attached yet, and a focus mode that helps you prioritize your day and focus on the task at hand.
Pros: Calendar interface makes it easy to see what you have on your plate. Focus mode for daily goals. Mobile client Available
Cons: Makes your calendar very busy.

Email Tools
Followup.cc
Followup.cc
Use: Email follow-up reminders & open tracking.
Summary: FollowUp.cc is an email reminder, open tracking, and follow-up tool. The Chrome extension plugs into Gmail and adds a small widget to your inbox. Set a FollowUp reminder by checking a box at the bottom of your email, and click the date and time you want to be reminded. FollowUp.cc will send you and email reminder with the entire chain attached for reference at the time you set and give you the option to either reply or snooze the email until a later date.
Pros: Easy to set followups and open tracking as you create your email. Shows you all email open activity in the sidebar.
Cons: Full thread followups can make it difficult to see replies.

Timyo
Timyo
Use: Email Prioritization
Summary: Timyo is an email prioritizing mobile app (desktop integrations for Apple Mail, Gmail, and Outlook). The app operates under the idea that only 30% of your email is actually important at any given time. Taking this into account, Timyo sorts your email, prioritizes it, and sets weekly and monthly agendas to let you know when you need to deal with each email.
Pros: Cleans up inbox clutter. Sets clear response expectations.
Cons: Have to trust it doesn't filter something important.

WoodPecker.co
WoodPecker
Use: Mass cold outreach via email
Summary: WoodPecker is a cold email outreach and follow-up tool that streamlines the process, and allows you to personalize mass cold email outreach messages. Users create a string of emails that send to your specified outreach list with personalized details. Woodpecker lets you add multiple custom personalization tags, which you can add to the string, and includes follow up emails that send only if the recipients don't reply.
Pros: Personalized cold outreach to large audiences. Follow ups that only send if there's no response.
Cons: Can only personalize to a certain degree. Outreach emails are generally received better if they're individually tailored to the recipient.

Notes & Reminders
Later App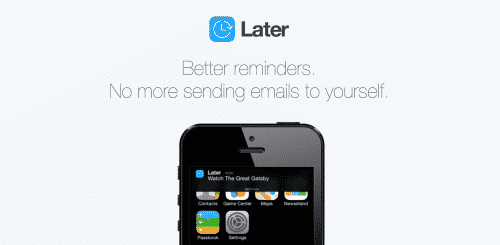 Later
Use: Reminders on the go
Summary: Later is a simple reminder app that does one thing: Remind you to do things. When you create a reminder in Later, simply type in what you want to be reminded, then chose when you want to be reminded (later today, tomorrow, this weekend, or a specified date/time), and Later reminds you, through Later and has a one-tap snooze option to deal with the reminder Later.
Pros: Quick, easy reminders on the go.
Cons: Mobile only.

Note Instantly
Note Instantly
Use: Quick notes inside your browser
Summary: Note Instantly is a 'new tab' screen that allows you to easily make notes where you're already working so you can stay focused. Simply install the Chrome extension (Firefox available as well), and start taking notes instantly!
Pros: Sync note with Gmail and Dropbox. Adds beautiful new tab screen with date, time, and weather information. Quick loading notes platform. Works inside your browser.
Cons: No social sharing. No calendar integration.

Meetings & Collaboration
Calendly
Calendly
Use: Painless meeting scheduling
Summary: Calendly makes setting meetings incredibly simple. All you have to do is create an account, block out the times you're busy or when you don't want to take any meetings, then share your Calend.ly link with anyone you want to meet. Your recipient will be able to see and select any open time-slot you have, then choose the time that best fits both of your schedules. Calendly will automatically add confirmed meetings to your calendar, no phone tag, no confusion.
Pros: Painless appointment scheduling with calendar integration. Can't double-book.
Cons: Have to update your availability on irregular days.

Deekit
Deekit
Use: Idea Collaboration/drawings
Summary: Deekit is a whiteboard designed for online editing and collaboration. You and your team can draw, write, and edit anything, literally anything because Deekit allows you to draw freely, drag and drop shapes, write text, and do much, much more.
Pros: Draw anything and collaborate.
Cons: Not specifically tailored for a particular type of design or collaboration (no rules or functionality to help you follow guidelines).

SpecDox
SpecDox
Use: Create & collaborate with your team on any specs
Summary: SpecDox is a role-based document editor that provides teams with predefined, simple to use editable templates that make it easy for designers, project managers, and team leaders to write beautiful, professional documents.
Pros: Collaborate from remote locations on complicated specs.
Cons: Not much Product information available.

There you have it! My top 17 favorite productivity tools for entrepreneurs. I hope you found something new. I recommend giving each of these tools a whirl to see how they can help make your life easier.